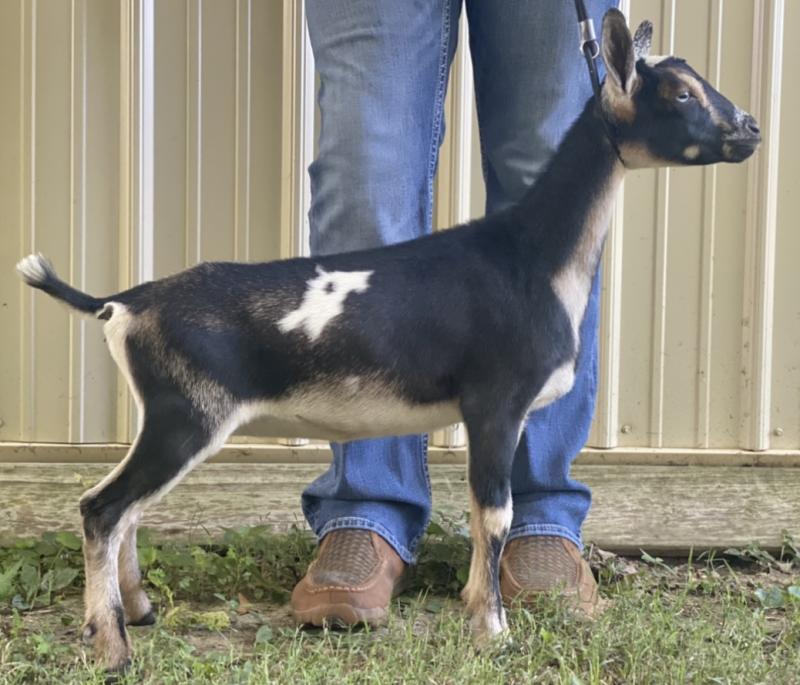 CADE'S LIL FARM BF MEGNOLIA

2022 ADGA SPOTLIGHT SALE CONSIGNMENT
Goat Detail: CADE'S LIL FARM BF MEGNOLIA - D002245781 (PB Doe) (adgagenetics.org)

Cade's Lil Farm BF Megnolia – ADGA Annual Convention

We are honored to have had a consignment accepted for the 2022 ADGA SPOTLIGHT SALE in Syracuse, NY!
Cade's Lil Farm BF Megnolia comes from the BEST that the Cade's Lil' Farm herd has to offer. She is a combination of years worth of selective breeding for both type and production.
Megnolia has already competed at the highest level of dairy goat competition. At the 2022 ADGA National Show in Harrisburg, PA, Megnolia was SECOND PLACE JUNIOR KID in an extremely competitive class. She has already proven that she has the type and general appearance that all of the other goats in her pedigree are known for. She has the genetics to continue this success while proving to be a productive dairy animal in the future.
Megnolia's dam is perhaps our most famous doe, SGCH Cade's Lil Farm BD Meggie 2*M EEEE 92. Meggie is one of the top animals we have ever produced. Because of that, we rarely, if EVER, offer a Meggie kid for sale. The Spotlight Sale will likely be your only opportunity to ever purchase a Meggie doe kid.
Meggie was 1st Place Aged Doe with 1st Udder as well as Premier Senior Doe of the National Embedded Youth Show at the 2021 ADGA National Show in Louisville, KY. The highlight of the show was when she was named 2021 ADGA NATIONAL BEST UDDER! In doing so, she came out on top against multiple former national champions and reserve national champions.
At the 2022 ADGA National Show in Harrisburg, PA, Meggie defied expectations yet again. She was 2nd Place Aged Doe with 1st Udder and was yet again the Premier Senior Doe of the National Embedded Youth Show. To top it all off, she was named 2022 ADGA NATIONAL RESERVE BEST UDDER!
Megnolia's sire comes from the BEST genetics available in the Nigerian Dwarf breed for milk production. Throughout his entire pedigree you will find ADGA ELITE animals who have been at the top of the TOP 10 list for production in volume, butterfat, and protein. Amethyst Acres Belle-Fiorello *B is out of Sugar Moon BF Belle Fleur 5*M who was TOP 10 in 2018, having multiple 1,000+ lb lactations. Belle-Fiorello's maternal granddam is the ALL TIME NIGERIAN DWARF RECORD HOLDER FOR MILK PRODUCTION, SG Sugar Moon V Zuzanna 4*M, who produced 2190 lbs at her peak lactation.
If you are looking for TYPE and PRODUCTION, Megnolia is the kid for you! Be watching out for her at the 2022 ADGA Spotlight Sale in Syracuse, NY!